How long is the contract?
We don't have a binding period in our contracts. We aim to build a product you want to keep using - not because you're stuck in a contract.

All agreements have one month's notice period.
What does the pricing model look like?
Your monthly price is calculated from the number of employees in Hailey. Payment is made in advance by monthly invoice. You get an unlimited number of administrators.

Contact us for pricing details for your company size!
Hailey and GDPR, what do I need to know?
Since we started building Hailey after GDPR entered into force in 2018, we have designed the system with GDPR in mind. We can thus guarantee the safe handling of personal data. Your settings and deletion policy decide how long the data is stored before making it unreadable.

By centralizing your data in one place, you always know where it is, making it easy to delete it when needed.
Where is the data stored?
Hailey HR is a cloud-based HR system. It is quick to get started and requires no complicated installations. All sensitive data is stored on secure servers provided by our partner Upcloud. Upcloud is a Finnish company (FO number 2431560), with Finnish owners and data centers in Europe that comply with the GDPR. All personal data is encrypted and stored with Upcloud.

Other data that is not personal data is stored on European servers at Microsoft Azure (primarily in Amsterdam, with automatic backup in Dublin). No personal data is stored with Microsoft Azure.
What security measures do you take to protect the data?
Personal data is encrypted at rest using AES256. Communication with services is secured by HTTPS using TLS 1.2. Hailey HR is using crypto shredding to ensure maximum data security. It is the practice of rendering sensitive data unreadable by deliberately overwriting or deleting encryption keys used to secure that data.
Who has access to what data on the customer side?
You decide who will see what based on your roles and rights. By default, employees can only see limited information about the organization - and this can be tailored to your needs. The adaptation takes place in our authority structure, where administrators distribute rights regarding access to various parts of the system.



How do you handle data after contract termination?
You can export all master data to an Excel-compatible file. There is step-by-step documentation on how to export your information from the system. For security and backup reasons, Hailey HR saves data 30 days after the end of the agreement, and then all data is deleted.

Data concerning the business relationship between you as a customer and Hailey (e.g., agreements and billing information) is saved.
Can we use single sign-on (SSO)?
It is possible to log in with SSO from Microsoft, Google and Okta.
What is crypto shredding?
We use crypto-shredding to ensure maximum data security. It is the practice of rendering sensitive data unreadable by deliberately overwriting or deleting encryption keys used to secure that data.

If a user wants to exercise their right to be forgotten, we can easily delete the appropriate key, effectively "shredding" the encrypted data.
Features and functionality
Is it possible to send pulse surveys and employee surveys?
I dagsläget erbjuder vi anonyma undersökningar för minst fem svaranden. Det går att bryta ner resultaten på avdelning, kontor eller chef för att kunna analysera datan ytterligare.
Does the system support incident management at an individual level?
It is possible to write notes on employees that only managers with the right qualifications can see. Our flexible authorization structure enables you to tailor this.

Hailey can also help you handle meeting notes requiring both parties' signing. The documents linked to incidents are stored on the employee card.
Can we customize the system to fit our graphical profile / brand identity?
We are working on features to allow customers to adapt some parts of Hailey to their company brand identity. The focus will be on new employment (preboarding / onboarding) and the company page. This is to ensure that we maintain our user-friendly design.
Can we search for different types of skills and map competencies?
You can add specific competencies to the employees via custom fields and create an overview.
Can we welcome new employees with preboarding and onboarding?
Preboarding and onboarding are central functions that you tailor based on your needs and wishes. In the onboarding, you can include both images and text from managers and the team to create a welcoming start for your next colleague.
Can we hire new employees in Hailey?
Yes. We have a straightforward integrated process for hiring! Our interactive guide will take you through the entire process. From initiating hiring, collecting personal information (like social security number, address, etc.), handling employment contract templates with control codes linked to the employee card so you avoid doing things twice. Signatures are handled through our built-in e-signature with digital signature or BankID. The signed agreement then automatically lands under the employee card - it's a smooth experience.

If you use Teamtailor as your ATS, we have a complete integration so you can seamlessly connect the flow from candidate in Teamtailor to employee in Hailey.
How can Hailey help me manage our policies?
It is perfectly possible to conduct policy work in Hailey. For example, you can send out policies for signing and then follow up on who has reviewed the policy and who hasn't.

You can handle forms populated with HR and employee data via our contract templates or upload ready-made pdfs for signing.

It is also possible to build dynamic policy documents in our contract editor to be able to revise them and then send out new versions quickly.
Compensation and benefits
Can we ditch our payroll system and do everything in Hailey HR instead?
No, you still need a payroll system. But we do recommend that Hailey becomes the master system for all HR data.

Both absence reporting and other employee data changes can be listed in our change report and exported to the payroll system.

If your payroll provider offers an API, you can build an integration to send data directly to the payroll system. The actual payroll run is still done in your existing payroll system but with data from Hailey.
Do you support strategic work with compensation and benefits?
Hailey HR is not a benefits portal. On the other hand, you can build a clear overview of employees' benefits and compensation within the company by using our function for custom fields.
We usually have the master data in the payroll system - why would it be good to move it to Hailey HR?
Many customers are used to handling master data in the payroll system. By moving this to Hailey, you will have more flexibility around roles and rights to offer both transparency and secure handling of personal data.

You can integrate Hailey with your Microsoft or Google accounts, your website, and other systems to provide a single source of truth that you can use throughout the organization. Another benefit of the flexibility is keeping your data in a place where you can add your own fields and use the system how it suits you best.
Is it possible to get a comprehensive overview of an employee's data?
Absolutely! This is one of our main features. Each employee has a timeline where history is collected about, among other things, previous roles, managers, salaries, and agreements that have been signed.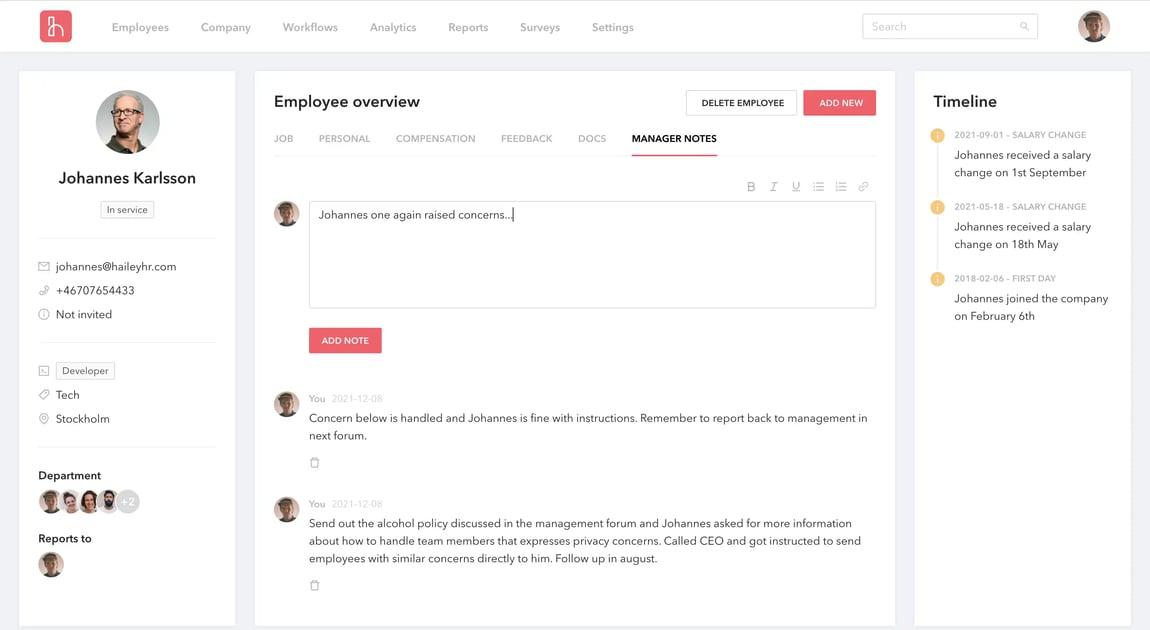 Can I view multiple employees' data at the same time? Yes - with our employee list, you can easily view all employee data by selecting the columns and filters you are interested in.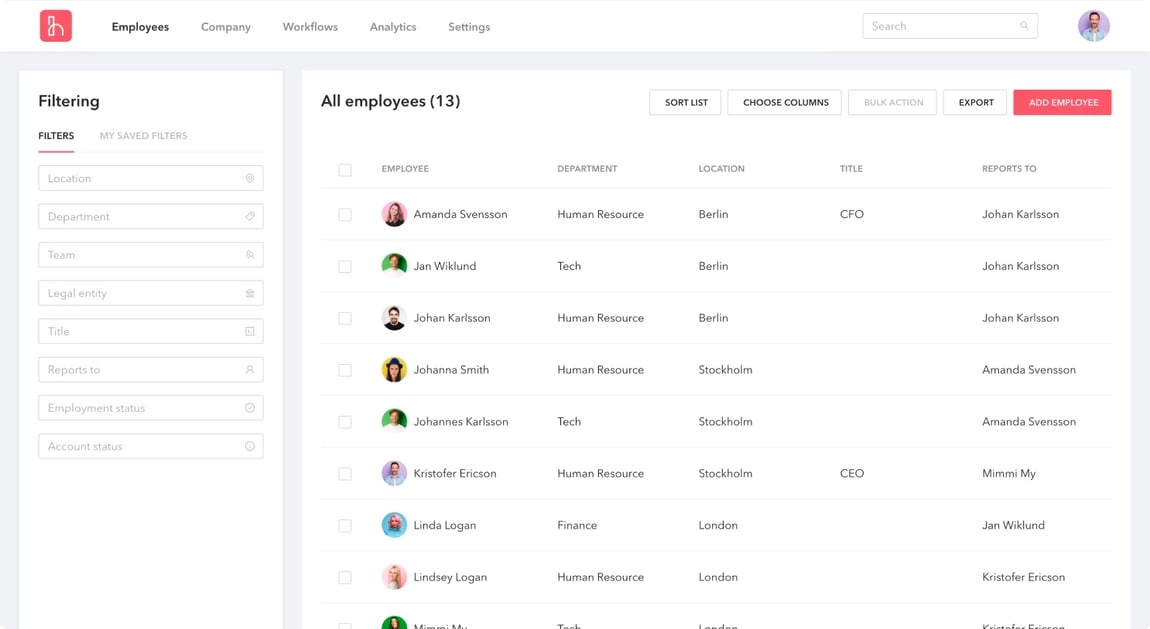 Is it possible to upload files and documents on an employee's profile?
It is possible to upload agreements and documents on an employee's employee card. The document types we support are currently: jpg, .jpeg, .png, .pdf, .doc, .docx, .xls, .xlsx. Documents and agreements signed in Hailey automatically end up on each employee's profile.
Can we create certificates and references in the system?
It is perfectly possible to use our contract bank for this. In addition to employment contracts, you can create appendices, written certificates, and termination forms. These are signed via e-signature or BankID through the system.
What type of reports can we create in the system?
With the help of the export function in the employee list, you can create the types of reports you want, depending on your needs. The majority of data stored in Hailey is available for filtering.

Our Analytics section also has ready-made reports that cover common questions such as headcount, age & gender distribution, and salary levels.
Is it possible to download reports?
Yes, built-in filters from the employee list are easily downloaded as Excel files.
What kind of support can we expect?
The support from our Customer Success team is one of the most appreciated parts of Hailey among our customers. The team is available via email, telephone, and video conference during office hours.
Do you offer resources and guides for users?
We have built a knowledge base that contains clear guides where we step by step go through how you can use each of the features in the best way possible. Of course, we are only an email away if there are any questions.
Implementations of HR systems are usually time-consuming and cumbersome. What does the implementation of Hailey look like?
Our Customer Success team will guide and help you through all implementation steps. This will ensure you get started quickly and guarantee everything works the way you want.

First meeting - video call, about 60 minutes
We go through the system and create your account to get you started in Hailey.

We plan the onboarding together to ensure we have continuous dialogue throughout this phase. In most cases, we schedule a meeting a week until the implementation is complete and you go live. When the implementation phase is completed, you have access to our support for guidance and help in the system.

How long does it take to get started?
We have customers who go live to the entire organization in 2-3 weeks, while others need more time. Two factors usually decide how long it takes to go live. 1) How much focus and time you can allocate during the implementation, and 2) how much you want to change your existing processes when moving them to Hailey. From our side, it's fast, and we help you plan in a logical order.

When you are live
Every three weeks, you receive product updates to your email with all new features added to Hailey, so you don't miss anything. You can also book meetings with Customer Success when you want to go through functionality - we adapt to your needs. Some customers have standing meetings, and others want to contact Customer Success when needed.
Our vision with the system is that it should be so simple and flexible that you do not have to spend much time on training to start using the tool. We are, of course, always here for you when you need us.
We plan our road map according to our customers' needs, which means that you will also be able to influence future development by coming up with ideas and input.
How long are backups stored?
Backups are kept for 30 days. All other data is disposed of from the data stores provided by Azure.Our backups are stored for 30 days. After 30 days, all data is deleted and cannot be restored.
What APIs and integrations are available?
We provide an API with the possibility of integration with other systems. You can thus build freely on your site, depending on which tools and systems you want to integrate. You'll find our API documentation here.

Turnkey integrations today are Teamtailor, Fortnox, Crona, PE accounting, Hogia, Google Workspace, Azure AD, Slack, and Microsoft Teams. We add integrations on an ongoing basis - ask us!
Are backups done on a regular basis?
Yes, data is backed up every day.
What does the SLA and operating capacity look like?
We guarantee a minimum availability of 99.8% for the service, which is in line with the agreements we have with our suppliers.
What languages do you support?
Hailey HR is currently available in Swedish, English, Finnish, Norwegian, Danish, Polish and German. It is easy for users to switch between system languages themselves.

We add additional system languages based on our customers' wishes. Are you thinking of any particular language? Contact us!
How often is new functionality released?
We release new functionality as soon as it is ready to be released. It's not uncommon for us to ship new features or improvements around ten times a day.
More questions? We are happy to help!